Payment Options
Click on one of the payment options to view the details
Credit Card Deposit
In order to deposit via a credit card there are a few things that need to be remembered:
Is your card International?
The card qualifies as international if it has 16 digits on the front as the card number. If not then your card may be local and you will need to apply to your bank for an international card.
Are you the card holder?
If you are the card holder then there is no problem to deposit. If the card is a relatives or friends then they will need to fill our authorization form, and both of you send documentation.
Are your personal details for your account correct?
If you details are incorrect and your name does not match your credit card for example, this will create a problem. Always remember that when you supply accurate and correct details a withdrawal will be processed without a problem.
Do you have sufficient funds on your card?
When trying to make a deposit please remember to make sure you have sufficient funds in your credit card, allowing for the exchange rate, as we process our funds in US Dollars.
Does your bank allow online purchases?
In some cases you have to authorize your bank or credit card company to allow online purchases, if in doubt please double check with them.
Sometimes your deposit may get declined, if this happens there are a few things to take into consideration:
Have you entered the correct expiry date?
This is located on the front of all cards.
Have you entered the correct CVV2 number?
This is located on the back of the card and will be the last 3 digits.
Have you entered the full card number?
Always remember that all 16 digits need to be entered.
One of the most common reasons for a declined deposit with your credit card is just mistyped information, so please always check before proceeding. If you have checked all the information and still receive a decline then we recommend one of our alternative payment methods.
Depositing with Paysafecard
Paysafecard allows you to make deposits into your LordPing account anytime. It is safe, easy, and anonymous. Paysafecards are available in many different places, petrol stations, newspaper kiosks, electronic stores, post offices, book stores, banks and many more.
It is quick, easy and safe. You don't need a credit card or a bank account. By choosing Paysafecard you'll be getting the safest, simplest solution going: that's because Paysafecard is a prepaid card that lets you pay on the internet. Paysafecards can be purchased at values of 10, 25, 50, and 100 EUR.
If the grand total of your payments exceeds your card credit, you can easily pay the remaining debit using the next Paysafecard. For a single payment, you can combine up to ten Paysafecard which allows you to use up a residual credit on your current Paysafecard.
Paysafecard is every bit as simple as cash. You don't need a bank account or a credit card. That's because Paysafecard is a prepaid voucher that you can buy from local shops and use to pay for online transactions on the internet.
It's as easy as 1-2-3!
To find out more about Paysafecard please visit http://www.paysafecard.com/pos. The site has multiple languages to choose from.
To make a deposit using your Paysafecard you need to select Paysafecard from the payment options, enter the amount in Euros and your bonus code (if you have one).
You will then be redirected to Paysafecard's website where you need to enter the individual PIN from your Paysafecard. This is very simple–see the screenshot below: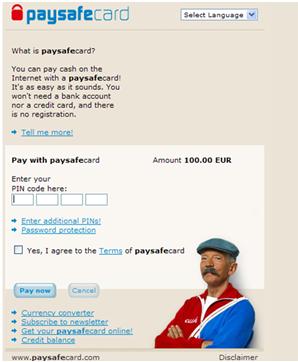 Opening a Moneybookers Account
Moneybookers is a quick and reliable on-line wallet service. Players can open an account, and fund it via bank transfer or credit/debit card.
We recommend Moneybookers as the LordPing player's choice for reliable and trustworthy online payments. It's instant, so you can challenge your friends to a game at LordPing within minutes!
It is very easy to open an account with Moneybookers. Just click this link to open one and select "Sign up now".
Please note that they also have the site in various different languages.
For English please select this link.
For Greek please select this link.
We have created a step by step guide to open a Moneybookers account if you need the extra help. Please click here.
Once you have registered and funded your Moneybookers account, you will be able to instantly deposit to your lordping.com account and start playing right away.
If you need help with depositing then you can access their FAQ's (Frequently Asked Questions) and then select "Deposit".
Moneybookers have a Customer Call Centre: +44 870 383 0232
They also have an online messaging service which is also useful.
The minimum amount for a deposit with Moneybookers is $20, as for withdrawal; really there is not a restricted amount!
When using Moneybookers to deposit or withdraw at our casino, there are no fees.
Instructions
It takes just four very easy steps to open an account with Moneybookers. Start by going to www.moneybookers.com/app/ and select "Sign up now".
Account Type
Email verification
Personal details
Confirmation
Moneybookers requires the following information to ensure your identity.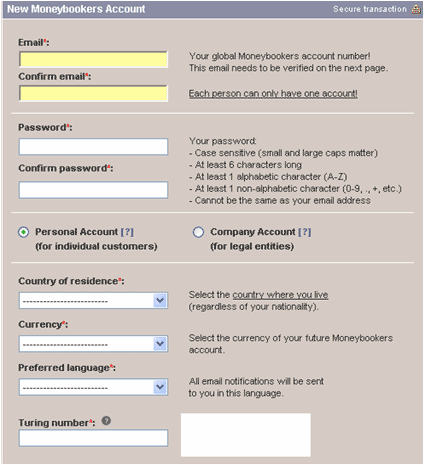 Once you have completed this page a verification email containing a link will be sent to your email address.
Check your e-mail and simply click on the link to verify your email address and then continue with the registration process.
Next, enter your full personal details.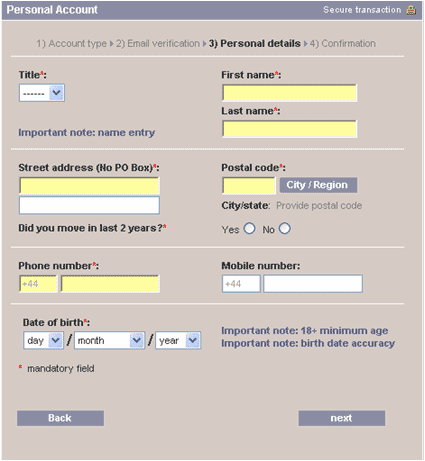 Once you have filled in your details click "NEXT".
You will then receive confirmation of your details.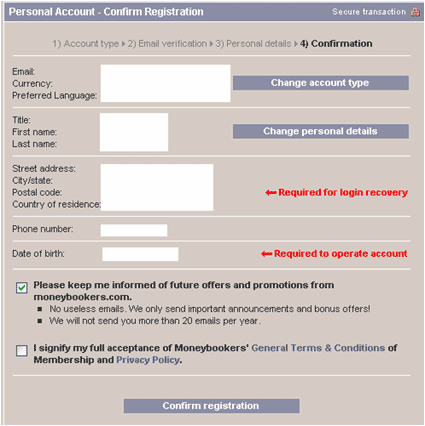 Tick the box accepting the General Terms and Conditions and click on "Confirm Registration". You have now succeeded in opening your Moneybookers account.
NETELLER
NETELLER is the fast, simple and secure way to move your money online.
Fund your account with all of the major payment brands like Visa, MasterCard, Maestro, bank wires, international and local bank transfers and instant local deposits such as iDEAL, giropay, DineroMail.
All deposits and withdrawals to and from sites that accept NETELLER are FREE.
Deposit funds from your NETELLER account for free. Sign up and pay today!
Withdraw funds to your NETELLER account for free.Sign up now.
EcoPayz
EcoPayz is an alternative purchasing method which is used widely throughout Europe and Canada.
To open an account with EcoPayz visit their website at: http://www.ecopayz.com/ and click on the "Registration" button. You can deposit money by clicking on "Money Deposits."
For more information go to: http://www.ecopayz.com/
Step-by Step Guide
Select the EcoPayz deposit option on the LordPing Deposit Page
Enter the amount you wish to deposit into your LordPing account
You will be redirected to EcoPayz page to complete the transaction
Login using your EcoPayz username and password and enter security characters displayed
Confirm the payment on EcoPayz transfer information page
LordPing receives confirmation of the payment.
You will receive a confirmation from LordPing that your payment has been successful